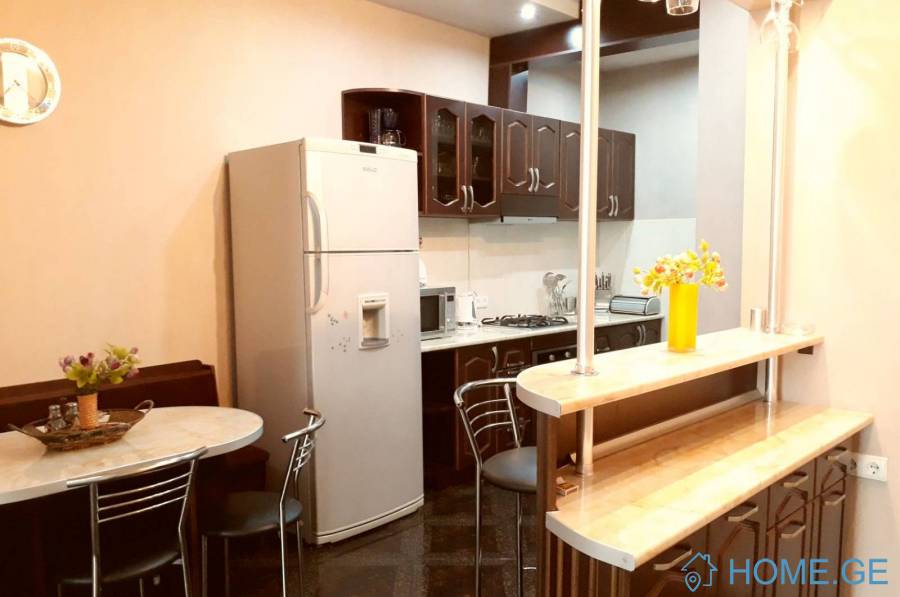 View Larger
Gallery
Map View
For Rent, New building, vake
ქირავდება 2 ოთახიანა ბინა ვაკეში
With Appliances and Furniture
Dishwasher
Audio system
Gas Stove
Heater
Vent
Electric oven
Electric Kettle
Hair Dryer
Induction oven
Cinema
Air Conditioning
Refrigerator
Microwave
Vacuum Cleaner
Washing Machine
Dryer
TV
Iron
Coffee Machine
Internet
Cable TV
Satellite television
Television
Phone
Wardrobe
Outdoor storage
Common storage
Storeroom on the balcony
Pantry
Basement
Other
Attic
CO Detector
Smoke Detector
Evacuation Ladder
Fire Fighting System
Perimeter video cameras
Locked entrance access system
Alarm
Locked yard access system
Live protection
Supermarket
Pharmacy
Bank
Greenery
Subway
Park
Supermarket
Shopping Centre
Kindergarten
School
City Center
Old District
ქირავდება კეთილმოწყობილი ბინა, ფალიაშვილზე, ვაკის პარკთან.
ბინა მდებარეობს 10 სართულიანი შენობის მე6 სართულზე.
საცხოვრებელი ფართი არია 88კვ.მ და აღჭურვილია ყველა საჭირო ტექნიკითა და ავეჯით, ინვენტარით. ცალკე სათავსო სარეცხი ოთახით. აივნით. ბინა არის ორ ოთახიანი, სტუდიო ტიპის მისაღები ოთახით, რომელიც უერთდება სამზარეულოს, ერთი საძინებლით, 2 სველი წერტილით და აივნით.

Furnished apartment for rent near Paliashvili, Vake Park. The apartment is located on the 6th floor of a 10 storey building. The living space is 88 square meters and is equipped with all the necessary equipment and furniture, inventory. Separate storage room with laundry. Balcony. The apartment is a two bedroom, studio living room with a kitchen, one bedroom, 2 bathrooms and a balcony.

Сдается меблированная квартира возле Палиашвили, Ваке Парк. Квартира расположена на 6 этаже 10 этажного дома. Жилая площадь составляет 88 квадратных метров и оснащена всем необходимым оборудованием и мебелью, инвентарем. Отдельная кладовая с прачечной. балкон. Квартира состоит из двух спален, студии, гостиной с кухней, одной спальни, 2 ванных комнат и балкона.