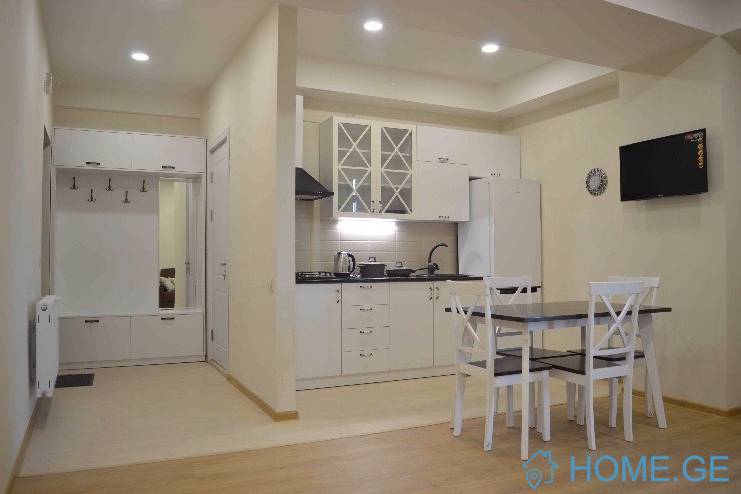 View Larger
Gallery
Map View
For Rent, New building, saburtalo
ქირავდება 2 ოთახიანი ბინა
With Appliances and Furniture
Internet
Cable TV
Satellite television
Television
Phone
Wardrobe
Outdoor storage
Common storage
Storeroom on the balcony
Pantry
Basement
Other
Attic
CO Detector
Smoke Detector
Evacuation Ladder
Fire Fighting System
Supermarket
Pharmacy
Bank
Greenery
Subway
Park
Supermarket
Shopping Centre
Kindergarten
School
City Center
Old District
ბინა მდებარეობს საბურთალოზე, შარტავას ქუჩა 31/33ში, თბილისის მერიის გვერდით, მე10 სართულზე, საიდანაც იშლება მტკვრის ხეობისა და კავაკასიონის ხედები. კორპუსი დასრულებულია და უზრუნველყოფილია თანამედროვე ტიპის სამი ლიფტით.ბინა უზრუნველყოფილია ყველანაირი ტექნიკითა და ავეჯით. განლაგება არის სტუდიოს ტიპის, დამოუკიდებელი საძინებლით და სველი წერტილით, ასევე შემოსასვლელით, მისაღებით და გამოყოფილი სამზარეულოს წერტილით. ბინა არის უცხოვრებელი და ყველანაირი ტექნიკა და ავეჯი შესაბამისად არის სრულიად ახალი. ასევე ბინა უზრუნველყოფილია კონდიციონერით, ტელევიზიითა და ინტერნეტით.

The apartment is located on Saburtalo, 31/33 Shartava street, next to Tbilisi City Hall, on the 10th floor, which offers views of the Mtkvari Gorge and the Caucasus. The building is finished and provided with three modern lifts. The apartment is provided with all the necessary equipment and furniture. The layout is studio type, with separate bedrooms and bathrooms, as well as an entrance, living room and separate kitchen area. The apartment is uninhabited and all the appliances and furniture are accordingly brand new. The apartment is also provided with air conditioning, TV and internet.

Квартира находится на Сабуртало, улица Шартава, 31/33, рядом с мэрией Тбилиси, на 10 этаже, откуда открывается вид на ущелье Мтквари и Кавказ. Здание закончено и оснащено тремя современными лифтами.Квартира обеспечена всем необходимым оборудованием и мебелью. Планировка студийного типа с отдельными спальнями и ванными комнатами, а также прихожей, гостиной и отдельной кухней. Квартира необитаема, вся техника и мебель абсолютно новые. В квартире также есть кондиционер, телевизор и интернет.