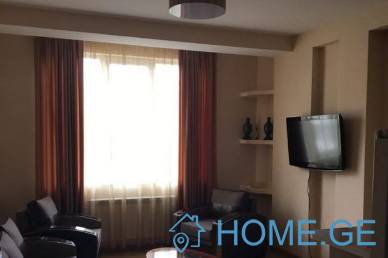 View Larger
Gallery
Map View
For Rent, New building, saburtalo
ქირავდება 2 ოთახიანი ბინა კოსტავას ქ.ზე
With Appliances and Furniture
Internet
Cable TV
Satellite television
Television
Phone
Wardrobe
Outdoor storage
Common storage
Storeroom on the balcony
Pantry
Basement
Other
Attic
CO Detector
Smoke Detector
Evacuation Ladder
Fire Fighting System
Supermarket
Pharmacy
Bank
Greenery
Subway
Park
Supermarket
Shopping Centre
Kindergarten
School
City Center
Old District
ქირავდება ახალი გარემონტებული ბინა კოსტავას ქუჩაზე, 5 სართული, საერთო საცხოვრებელი ფართი– 55მ2. ბინა სრულიად კეთილმოწყობილი, თბილი და მყუდრო ინტერიერით, ერთი საძინებლით და ერთი აივნით. ბინა აღჭურვილია ცენტრალური გათბობის და კონდიცირების სისტემებით. შენობა მდებარეობს ტერიტორიაზე, რომელიც დაცულია და უსაფრთხოა საცხოვრებლად. კორპუსის არაერთი ბინა გაქირავებულია თბილისში მცხოვრებ უცხო ქვეყნის მოქალაქეებზე.

Newly renovated apartment for rent on Kostava str, 5 floors, total living space - 55 m2. The apartment is fully furnished with warm and cozy interior, one bedroom and one balcony. The apartment is equipped with central heating and air conditioning. The building is located in an area that is safe and secure for living. Many apartment buildings are rented to foreign citizens living in Tbilisi.

Сдается в аренду новопостроенная квартира на ул. Костава, 5 этажей, общая жилая площадь - 55 м2. Квартира полностью меблирована с теплым и уютным интерьером, одна спальня и один балкон. Квартира оборудована центральным отоплением и кондиционером. Здание находится в безопасном и безопасном для жизни месте. Многие многоквартирные дома сдаются в аренду иностранным гражданам, проживающим в Тбилиси.