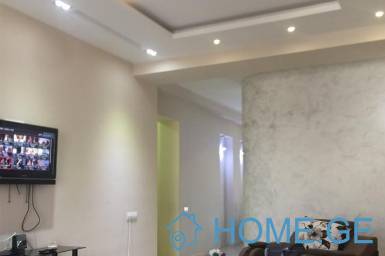 View Larger
Gallery
Map View
For Rent, New building, saburtalo
S. Cincadze st. (Saburtalo st.)
ქირავდება 3 ოთახიანი ბინა აქსისის კომპლექსში
With Appliances and Furniture
Dishwasher
Audio system
Gas Stove
Heater
Vent
Electric oven
Electric Kettle
Hair Dryer
Induction oven
Cinema
Air Conditioning
Refrigerator
Microwave
Vacuum Cleaner
Washing Machine
Dryer
TV
Iron
Coffee Machine
Internet
Cable TV
Satellite television
Television
Phone
Wardrobe
Outdoor storage
Common storage
Storeroom on the balcony
Pantry
Basement
Other
Attic
CO Detector
Smoke Detector
Evacuation Ladder
Fire Fighting System
Perimeter video cameras
Locked entrance access system
Alarm
Locked yard access system
Live protection
Supermarket
Pharmacy
Bank
Greenery
Subway
Park
Supermarket
Shopping Centre
Kindergarten
School
City Center
Old District
ქირავდება 3-ოთახიანი ბინა ახალაშენებულ, აქსისის პრესტიჟულ კორპუსში. ბინა მდებარეობს ს. ცინცაძის ყოფილი საბურთალოს ქუჩაზე ,სართული მე-18 (სულ 21 სართულიანია). ბინა არის 3 ოთახიანი (ორი საძინებელი, ერთი დიდი საერთო ოთახი და დიდი სამზარეულო), 103 კვ.მ. აქვს ორი აივანი, ბინაში არის სრული ინვენტარი, თითქმის უცხოვრებელი. ბინა არის გამჭოლი, საძინებელის აივანი არის საბურთალოს ქუჩის მხარეს, ხოლო საერთო ოთახის აივანი კი ბახტრიონის მხარეს. ფასი 600 $. აქსის პალასი 2. სრული ინვენტარი (ჭურჭლის სარეცხი მანქანა, 2 ცალი კონდიციონერი, სარეცხი მანქანა, ტელევიზორი, ავეჯი, ღუმელი, მაცივარი, ინტერნეტ ტელევიზია, ვაიფაი, დომოფონი და სხვა.) ფასი 600 $.

3-roomed apartment for rent in prestigious Axis building. The apartment is located on On the former Saburtalo street of Tsintsadze street, 18th floor (21 floors total). The apartment is 3 bedrooms (two bedrooms, one large common room and a large kitchen), 103 sq.m. It has two balconies, the apartment is full of equipment, almost uninhabited. The apartment is spacious, the bedroom balcony is on Saburtalo street, and the balcony of the common room is on Bakhtrioni side. Price $ 600. Axis Chamber 2. Complete inventory (dishwasher, 2 pcs air conditioner, washing machine, TV, furniture, oven, refrigerator, internet TV, WiFi, Doorphone, etc.) Price $ 600.

Сдается 3-х комнатная квартира в престижном доме Оси. Квартира расположена на На бывшей улице Сабуртало, на улице Цинцадзе, 18 этаж (всего 21 этаж). В квартире 3 спальни (две спальни, одна большая комната отдыха и большая кухня), 103 кв.м. Имеет два балкона, квартира полна техники, практически необитаема. Квартира просторная, спальня с балконом находится на улице Сабуртало, а балкон общей комнаты - со стороны Бахтриони. Цена 600 долларов. Камера Axis 2. Полный инвентарь (посудомоечная машина, 2 шт. Кондиционер, стиральная машина, телевизор, мебель, духовка, холодильник, интернет-телевидение, WiFi, домофон и т. Д.) Цена 600 долларов.