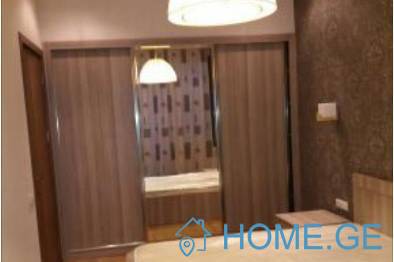 View Larger
Gallery
Map View
For Rent, New building, saburtalo
ქირავდება საბურთალოზე 2 ოთახიანი
With Appliances and Furniture
Dishwasher
Audio system
Gas Stove
Heater
Vent
Electric oven
Electric Kettle
Hair Dryer
Induction oven
Cinema
Air Conditioning
Refrigerator
Microwave
Vacuum Cleaner
Washing Machine
Dryer
TV
Iron
Coffee Machine
Internet
Cable TV
Satellite television
Television
Phone
Wardrobe
Outdoor storage
Common storage
Storeroom on the balcony
Pantry
Basement
Other
Attic
CO Detector
Smoke Detector
Evacuation Ladder
Fire Fighting System
Perimeter video cameras
Locked entrance access system
Alarm
Locked yard access system
Live protection
Supermarket
Pharmacy
Bank
Greenery
Subway
Park
Supermarket
Shopping Centre
Kindergarten
School
City Center
Old District
ქირავდება საბურთალოზე, უცხოვრებელი 2 ოთახიანი ბინა. ბინა არის დოლიძის ქუჩაზე ახალაშენებულ კორპუსში, ევრორემონტით, აქვს ერთი საძინებელი და სტუდიოს ტიპის მისაღები, ყველანაირი ავეჯი და ტექნიკა შეტანილია, ყველაფერი არის მაღალი ხარისხის. უხმარია ნივთებიც. ბინაში არის ცენტრალური გათბობა, ჩაშენებული კარადები და აქვს ულამაზესი ხედებით.

2 bedroom apartment for rent in Saburtalo. The apartment is located in Dolidze str, in new building, euro renovated, has one bedroom and studio type living room, all furniture and appliances are included, everything is of high quality. Useful items too. The apartment has central heating, builtin wardrobes and has beautiful views.

2комнатная квартира в аренду в Сабуртало. Квартира расположена на ул. Долидзе, в новом доме, евроремонт, имеет одну спальню и гостиную студийного типа, вся мебель и бытовая техника включены, все качественно. Полезные вещи тоже. В квартире центральное отопление, встроенные шкафы и прекрасный вид.