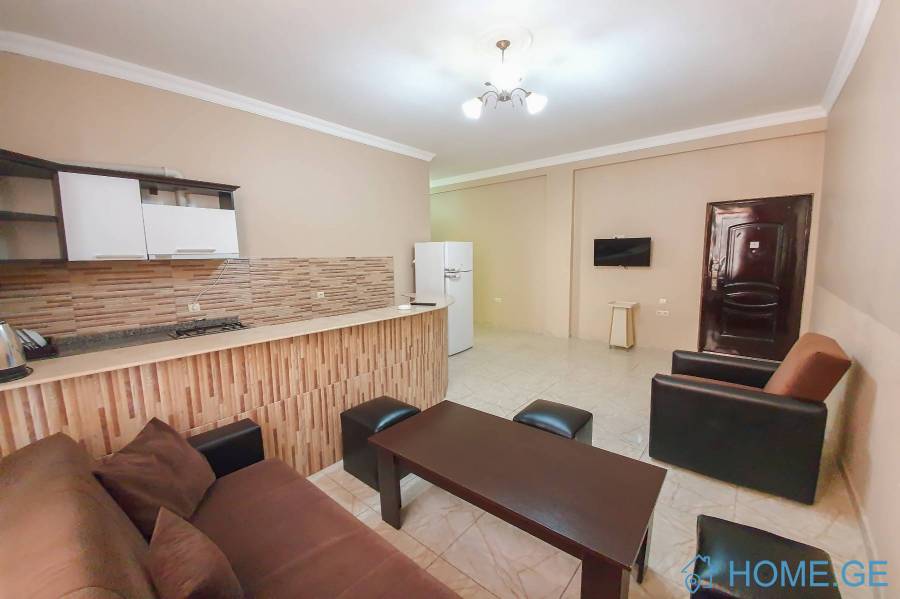 View Larger
Gallery
Map View
Daily Apartment Rent, New building, Minda
With Appliances and Furniture
Dishwasher
Audio system
Gas Stove
Heater
Vent
Electric oven
Electric Kettle
Hair Dryer
Induction oven
Cinema
Air Conditioning
Refrigerator
Microwave
Vacuum Cleaner
Washing Machine
Dryer
TV
Iron
Coffee Machine
Internet
Cable TV
Satellite television
Television
Phone
Additional Blanket
Pillow
Extra bed linen
Linen
Towels
Slippers
Tableware
Bathrobe
Hygiene Products
Perimeter video cameras
Locked entrance access system
Alarm
Locked yard access system
Live protection
Supermarket
Pharmacy
Bank
Greenery
Subway
Park
Supermarket
Shopping Centre
Kindergarten
School
City Center
Old District
ქირავდება ორ ოთახიანი ბინა დღიურად. სრულად კეთილმოწყობილი, კერძო პარკირებით, გარე კამერებით და 24/7 ადმინისტრაციული მომსახურებით. დაიშვება მაქსიმუმ 3 ზრდასრული. ბინა არ ქირავდება სადღესასწაულო წვეულებებისთვის და ასევე ქირაობის შემთხვევაში არ არის სტუმრების მიღება დაშვებული. ინფორმაციისთვის დაგვიკავშირდით ნომერზე +995 591 700 318.

вухкомнатная квартира посуточно. Полностью меблирована, с частной парковкой, уличными камерами и круглосуточными административными услугами. Допускается максимум 3 взрослых. Квартира не сдается для проведения праздников, а также в случае сдачи в аренду не допускается прием гостей. Для получения информации свяжитесь с нами по телефону +995591700318.

Two-room apartment for daily rent. Fully furnished, with private parking, outdoor cameras, and 24/7 administrative services. A maximum of 3 adults can be accommodated. The apartment is cannot be rented for parties or celebrations, and also in the case of renting it is not allowed to receive guests. For information, contact us at +995 591 700 318.