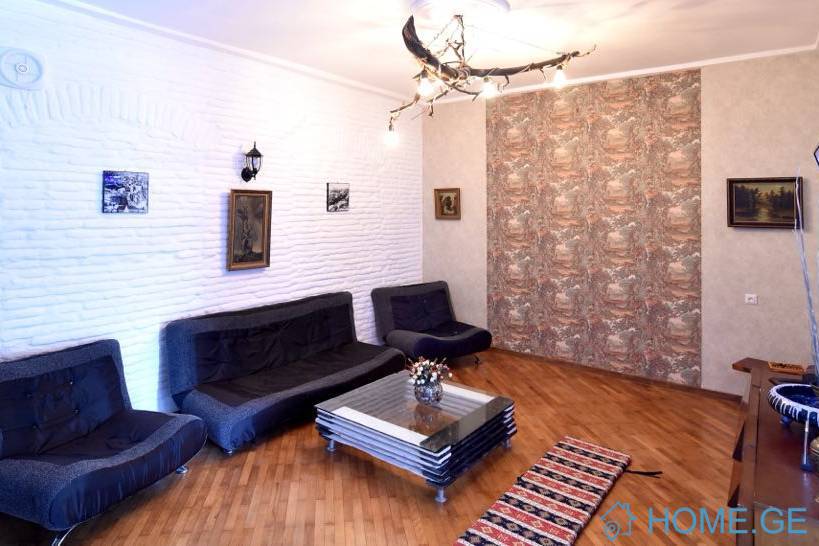 View Larger
Gallery
Map View
Daily Apartment Rent, Old building, Chugureti
With Appliances and Furniture
Coffee Machine
Induction oven
Air Conditioning
Audio system
Cinema
Dishwasher
Dryer
Electric Kettle
Electric oven
Gas Stove
Hair Dryer
Heater
Iron
Microwave
Refrigerator
TV
Vacuum Cleaner
Vent
Washing Machine
Cable TV
Internet
Phone
Satellite television
Television
Additional Blanket
Bathrobe
Extra bed linen
Hygiene Products
Linen
Pillow
Slippers
Tableware
Towels
Alarm
Live protection
Locked entrance access system
Locked yard access system
Perimeter video cameras
Supermarket
Pharmacy
Bank
Greenery
Subway
Park
Supermarket
Shopping Centre
Kindergarten
School
City Center
Old District
კომპანია თბილისელი გთავაზობთ ბინას, რომელიც მდებარეობს ქალაქის ცენტრში ტურისტულ ზონაში. სახლი არის ახალ გარემონტებული სუფთა და ნატელი, თბილისურ მყუდრო ეზოში . სახლს გააჩნია ყველანაირი კომფორტი და ორმოცდაათ მეტრის სავალში მდებარეობს : მეტრო, თეატრი , სკოლა, ბაღი, ბანკი და ა.შ.

Кампания Тбилисели вам предлагает квартиры в самом центре города в туристической зоне с лучшими услугами.

The company Tbilisi offers an apartment located in the city center in the tourist zone. The house is newly renovated clean and nut, in a cozy yard in Tbilisi. The house has all the comfort and is located in fifty meters: metro, theater, school, garden, bank etc.