5 Festive Foyer Looks We Stole From Instagram That'll Instantly Put You in the Holiday Spirit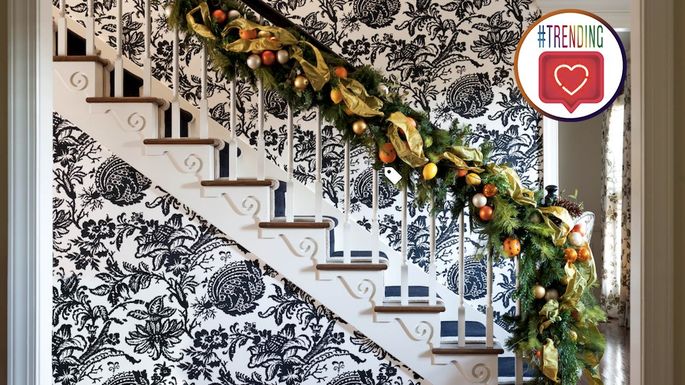 The holidays usher in a grab bag of conflicting emotions, but the one thing most of us non-Grinches can agree on is a mutual appreciation for holiday decor. From frosted snowflakes to golden tinsel, there's something undeniably magical about this time of year—and where better to showcase your spirit than in the entryway of your home?
Even if you won't have a gaggle of guests parading through your front door this year, that's no reason to skimp on the cheer in this high-trafficked space.
Luckily, if you're looking to make your foyer feel a bit more festive, we've done the hard work for you.
Fruity garland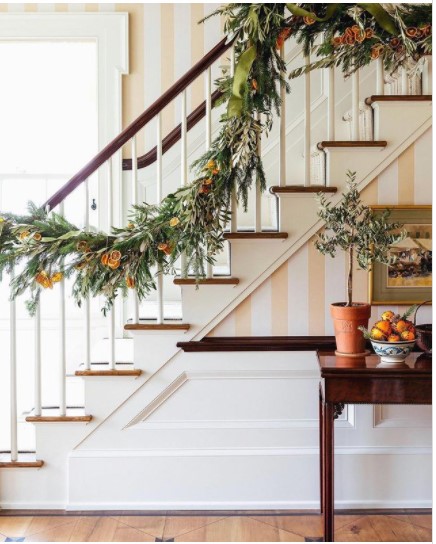 If you like a good railing garland as much as we do, then you're going to love this festive and fruity one. Featured.
 "Railing garlands have long been a great way to dress up a staircase," says Cristina Miguelez of Fixr. "The newest trend with dried fruit is actually calling back some very old ways of decorating. Before there were ornaments, people decorated with fruit. The dried oranges in this garland give it a more modern look, as well as some contrast in color, and a pleasant scent."
2. Persian red runner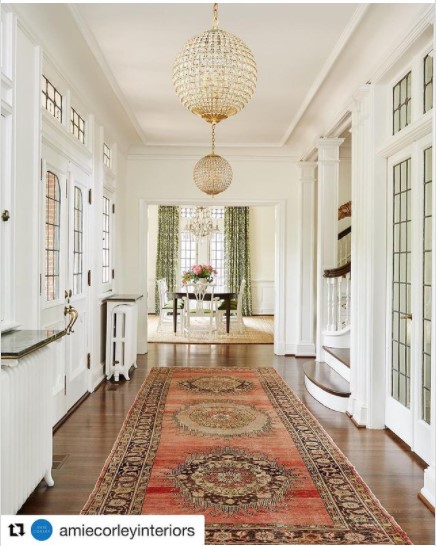 For those who lean toward more subtle holiday decor, look no further than a berry-red Persian runner like this one from @theproperpeacock.
 
"Especially in the Christmastime, a Persian-inspired area rug warms a 'snowy' white space with a rich red glow," says Shelby Greene of Living Spaces.
"The trick to making an entryway pop is to keep the majority of pieces in calmer colors," Greene adds. "Notice how the rich red of the rug stands out against a palette of cool neutrals. The traditional decor elements act as a background, allowing the vintage, eclectic piece to take center stage."
Two-tone rattan console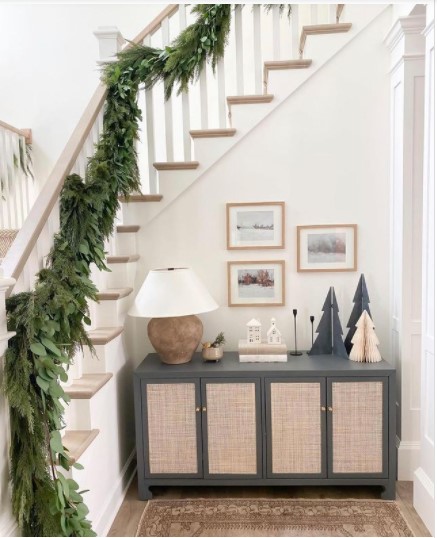 There never seems to be enough surface space in entryways, which is one reason we love this rattan console featured by @collectionprints. Another is simply the chic design.
"It's the contrast in texture here that makes the statement," says Miguelez. "Two-tone colors have been around for ages, but the difference in texture between the doors and the rest of the console adds depth, which is what makes it so eye-catching."
Mini trees

If you prefer your holiday decor a bit more minimalist, then you're going to love these gorgeous mini trees featured by @ukrainianlilyhome.
"Clear away your typical entryway tabletop decor, and make room for mini trees to add a holiday look right when you walk in the door," says Greene. "Sometimes you can express a lot with a little, which is precisely why an entryway that's sparsely styled with miniature trees can be surprisingly bold."
Hideaway leather stools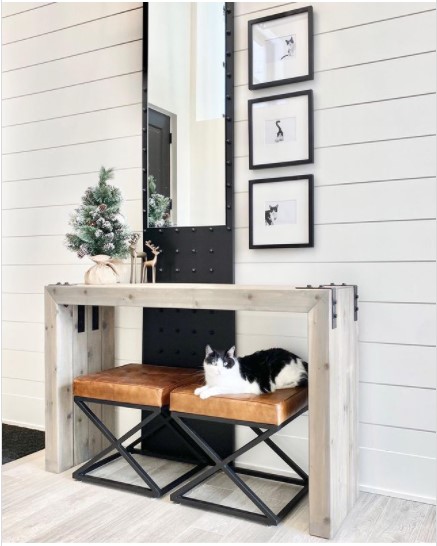 Nothing makes a space feel quite so cozy and inviting as handcrafted leather furniture, which is why we love these hideaway leather stools featured by @ahousewebuilt.
"I love this idea for any small home or apartment," says Miguelez. "Everything in a small space really needs to either do double duty or to have a place where it can go when not in use. These stools can remain part of the decor of the room, are easily accessible when they're needed, and are completely out of the way, filling an otherwise unused space."
Source: realtor.com/